Jonathan Woolley
Associate Engineer
530.204.7619 | jmwoolley-at-ucdavis.edu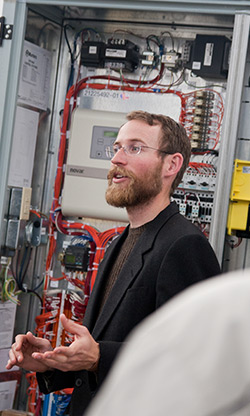 Jonathan Woolley's building science research focuses on design, development and control of low energy mechanical systems. His efforts target full scale demonstration and evaluation of emerging technologies for commercial and residential buildings, with a focus on strategies to enable Zero Net Energy.
Since 2010 Jonathan has managed the Western Cooling Challenge. In that time the program has conducted laboratory evaluation of several hybrid rooftop air conditioners, facilitated design and installation of more than 30 pilot demonstrations, and supported the smart development and systems-integration of various indirect evaporative cooling technologies.
Recently, Woolley's research has expanded to consider efficiency strategies related to whole building systems integration, such as the use of multi-function heat pumps for heating, cooling, domestic hot water, and waste heat recovery. Beyond advancing state of the art technical solutions, Jonathan's work embraces behavioral, economic, and policy opportunities as integral aspects of a pathway to sustainability in the built environment.