2016 WCEC Affiliates Forum

A Gathering of HVAC Industry Stakeholders
Energy Efficiency Progress, Policy & Potential Development.
WCEC's annual affiliates forum brings together HVAC industry stakeholders to discuss recent energy policy affecting the State of California, affiliate member news and developments, and research results published by WCEC. The forum's goal is to create a diverse and relevant discussion on HVAC energy efficiency, pushing forward toward solutions and facilitating market impacts.
Presentations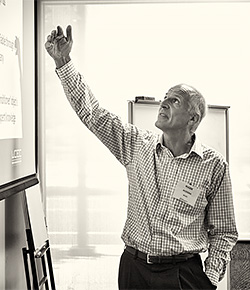 WCEC Year in Review – Mark Modera, WCEC Director
Director Mark Modera highlights some of WCEC's research for the previous year including:
New refrigerant testing
Next generation heat pump testing
Feasibility of evaporative cooling in drought-ridden California
ASHRAE standard for Evaporative Pre-Coolers
User-Oriented Modeling tools for Climate Appropriate Air Conditioners
Create training videos for 2016 Building Energy Efficiency Standards
(Download the PDF Presentation)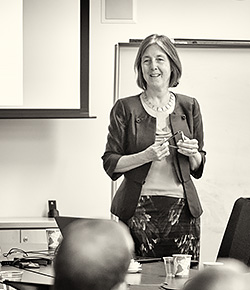 California Energy Policy: Old and New – Nancy Skinner, Energy Efficiency Center
Nancy takes us through previous energy efficiency policy in California and highlights current and new measures such as:
Prop 39: Energy Efficient Schools
SB 350: Transportation Electrification
AB 802: Benchmarking and energy use disclosure program
AB 2514: Energy Storage Mandate
(Download the PDF Presentation)
Affiliate Highlight Session – Jim McClendon, Director of Engineering, Walmart  //  Amit Gupta, CEO, Aeroseal  //  Steve Slayzak, Engineer, Seeley

Jim McClendon presents some insights on how Walmart handles deployment of energy efficient technologies/prototype testing over such a large portfolio of buildings in diverse geographical locations. (Download the PDF presentation)
Amit Gupta gives the history of Aeroseal and highlights its latest licensed technology: Automated sealing of building envelopes using aerosols. (Download the PDF presentation)
Steve Slayzak gives a brief overview of the purchase of Coolerado by Seeley and how their products compliment each other rather than compete.
Market Barriers to Adoption of Efficient HVAC Retrofit Technologies – Sarah Outcault, Behavior Scientist, WCEC
Dr. Outcault presents information on why stakeholders choose to or not to buy, sell, adopt or promote energy efficient technologies.
(Download the PDF Presentation)
(Download the research report)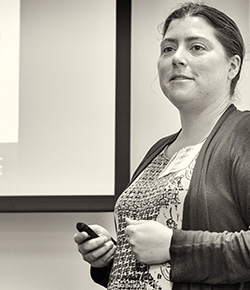 WCEC Future Research – Vinod Naranayan, Associate Director, WCEC & Theresa Pistochini, Engineering Manager, WCEC
A brief look at some of the new research projects WCEC has started or will begin in the coming months:
Dispatchable pre-coolers for demand response
Aquachill remote technology
Sub Wet-bulb Evaporative chillers
De-humidification for Indoor Agriculture
Cost-constrained energy efficiency optimization for multifamily and commercial buildings
Ventilation solutions for California Schools
Shallow bore ground heat-exchangers for heat pumps
Energy efficient HVAC retrofits for residential buildings and more!
Poster Session

This year's forum featured a flexible, 2-hour lunch and poster session within WCEC's office. Here are the posters that were displayed during that session:
Does Evaporative Cooling Make Sense in Arid Climates?—Nasim Tajmand, Graduate Student Researcher, WCEC
Multi-Tenant Light Commercial Modeling Research –Nelson Dichter, Associate Engineer, WCEC
A New Termination Control Method for a Clothes Drying Process in a Clothes Dryer—Assistant Engineer, Caton Mande, WCEC
Performance Evaluation of a Thermal Storage Solution—Assistant Engineer, Jose Garcia, WCEC
High Performance Waste Heat Recuperators for Heat Recovery Cycles—Vinod Naranayan, Associate Director, WCEC
Modeling Hybrid Air Conditioners—the BUILD DOE Team: Jonathan Woolley, Associate Engineer, WCEC // Yuanxian Chen, Yitian Liang, Nicholas Cabrena, Kyle Cheung