Main Address, Phone and Map
Western Cooling Efficiency Center
215 Sage Street, Suite 100
Davis, California 95616
General Phone Number: (530) 752-4909
Tour the Center and Laboratory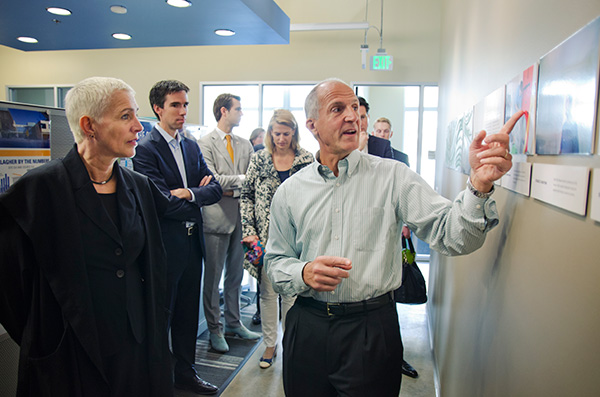 Learn first hand about the Center, current research and explore our laboratory.  Contact us to reserve a tour:
Kayla Levering
Program Manager
(530) 752-4909
kjlevering@ucdavis.edu
Getting to the Center
Train
The Amtrak Capitol Corridor provides service to cities between Auburn and San Jose including weekend and weekday stops in downtown Davis. The local Amtrak station is located at 840 Second Street in Davis and is accessible by Unitrans Line A.
Other popular connections from Amtrak are:
The Sacramento Valley Station in downtown Sacramento provides a connection to the Sacramento Regional Transit light rail system, the Amtrak Thruway bus service and the Amtrak San Joaquin route.
The Richmond Amtrak Station provides connections to the Bay Area Rapid Transit (BART) system
Bike
It is easy to bike to West Village and there is plenty of bike parking.
Bus
Unitrans (the campus and City of Davis bus system) serves West Village via Route V, for more information click here.
Parking
If you are visiting for less than two hours, please park in a marked two-hour street spot. If your visit will be longer than two hours, please park in a "West Village Staff" / "WV Staff Permit Parking" spot (located behind our offices) and then come in to our office for a temporary parking permit to put on your dashboard.