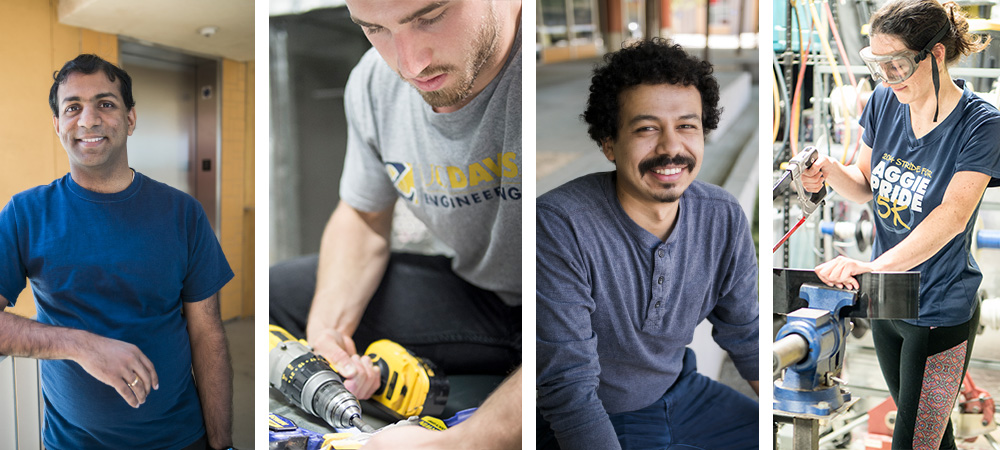 Research Opportunities for Undergraduates
We are always interested in working with inspired undergraduate students. The ideal candidate would be in their 3rd year, committed to an internship with the Center for at least 6 months, including full-time work over the summer. We are looking for students with strong analytical skills and an interest in energy efficiency in the built environment. Candidates should have a fundamental understanding of Fluid Mechanics, Experimental Methods, Heat Transfer, Numerical Analysis and Thermodynamics.
Undergraduate researchers at the Center have the opportunity to publish academic work and contribute to important and relevant research that impacts industry. Some of our students have the opportunity to use their research as the focus for a Mechanical Engineering Capstone Design Project.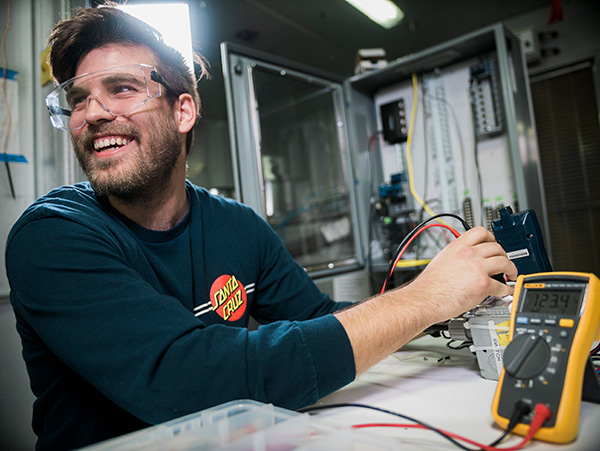 Join our Team
Contact us at: wcec@ucdavis.edu
In your email, attach a resume and please state:
Why you want to work at WCEC
What is your major
Anticipated graduation date
Research Opportunities for Graduate Students
At WCEC, our graduate student researchers are an integral part of our team. From data acquisition to field observation, our graduate student researchers work at the same level of detail and professionalism as our full-time engineers.
Graduate research opportunities at the Center span a wide range of disciplines and graduate students are challenged to break ground on a vast array of cutting-edge research.
WCEC Alumni
Our students and staff go to work for a variety of industry, academic, public, and non-profit organizations. View our Alumni page to see where our UC Davis grads end up.
Join Our Team
Graduate Program Coordinator
Annemarie Schaaf
aschaaf@ucdavis.edu
(530) 752-0247
Graduate Student Faculty Advisor
Mark Modera
Director - Energy and Efficiency Institute
mpmodera@ucdavis.edu
Graduate Student Faculty Advisor
Vinod Naranayan
Associate Director - Western Cooling Efficiency Center
vnarayanan@ucdavis.edu
Graduate Student Faculty Advisor
Alan Meier
Adj. Professor, Environmental Science and Policy - Energy and Efficiency Institute
akmeier@ucdavis.edu
Energy Graduate Group (EGG)
The Energy Graduate Group (EGG) provides the interdisciplinary training required to tackle the energy challenges of the 21st century and beyond.
Our mission is to produce graduates who will be energy leaders and experts in government, the private sector, and academia.
The EGG offers M.S. and Ph.D. degrees in Energy Systems. Students will take relevant coursework from across the UC Davis campus and undertake interdisciplinary research to address pressing environmental, economic, policy, and social challenges related to energy production and consumption facing California, the U.S., and the world. EGG is housed within the Energy and Efficiency Institute, which includes research centers, programs, and partnerships where students conduct research. Find more information at
CONTACT
Annemarie Schaaf
(530) 752-0247
Visiting Scholars
At WCEC, we thrive on ideas that can challenge convention and strengthen our research goals. Our holistic approach to knowledge requires a diverse and independent group that gives voice to all segments of efficiency research. That is why we welcome many different scholars from around the globe to collaborate and use their expertise and experience to help advance cooling efficiency technology.
CONTACT
When contacting us, please provide the following:
Your CV
Your research interest
Why you want to do research at WCEC
Any funding that will support your visit
Potential dates to visit