Ventilation means providing outdoor air into classrooms. Ventilation removes indoor air pollutants from buildings by bringing in outside air and exhausting room air. This dilutes the concentration of indoor pollutants.
Ventilation works together with filtration to improve indoor air quality. Filtration can capture and reduce exposure to some indoor and outdoor pollutants.
Indoor pollutants include volatile organic compounds like formaldehyde that can off-gas from building materials, finishes, furniture, and cleaning products. Indoor pollutants also include respiratory aerosols that are exhaled by building occupants. Reducing the concentration of respiratory aerosols inside buildings is important to reduce the spread of airborne infectious disease, including COVID-19.
Outdoor pollutants include fine particulate matter less than 2.5 microns in diameter, also called PM 2.5. This particulate matter can penetrate deep into the lungs when inhaled. PM 2.5 comes from a variety of sources including fires, power plants, and vehicle exhaust.
Children spend a large portion of their day indoors at school. Ensuring that schools are ventilated and have good indoor air quality is critical to protecting and supporting the health and well-being of students and teachers.
Monitoring carbon dioxide or CO2 levels is a useful and convenient way to monitor ventilation. Research from around the world shows there are high CO2 levels in many classrooms. For example, in a 2019 study, researchers found that about 85% of 94 recently installed HVAC systems in California K-12 classrooms did not provide adequate ventilation.
Research has found that increased ventilation rates are associated with increased student performance, improved respiratory health, increased student attendance, and lower risk of transmission of airborne infectious diseases. We recommend that school districts take the following actions to improve classroom ventilation and indoor air quality: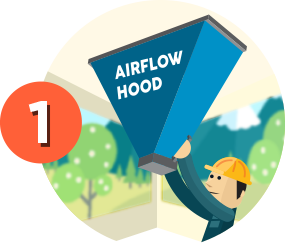 Periodically test and adjust HVAC equipment to ensure the required ventilation is provided. With minor adjustments, many existing systems will be able to meet ventilation requirements.
Hire contractors and technicians that are certified by a Testing, Adjusting, and Balancing certification agency. See our recent overview of certification agencies.
Ensure that building control systems and thermostats are programmed to operate ventilation fans one hour before school starts and continuously during the school day.
Inform teachers on the importance of operating ventilation fans continuously.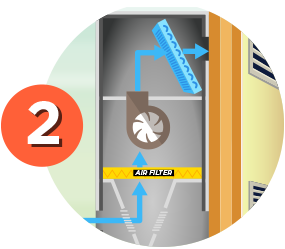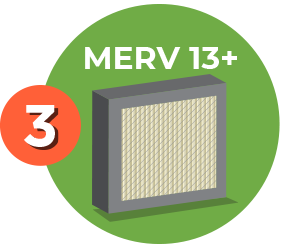 When possible, use filters with a minimum efficiency rating value, or MERV, of 13 or greater to remove small particles from the air.
Change filters every 3-4 months during the school year so that airflow is sufficiently maintained.
Install sensors in classrooms to continuously monitor CO2 levels and detect potential ventilation problems.
Thermostats with integrated CO2 sensors and stand-alone sensors are widely available.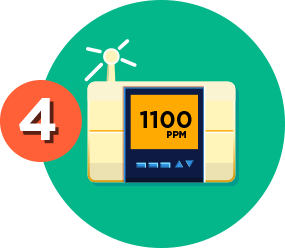 Share this information with parents, teachers, school administrators, school board members, and elected officials. Ask them to implement these steps to ensure better, safer air quality for everyone!

SASH Webinar – Improving Indoor Air Quality in Classrooms (2022 | Webinar)
How to Improve Indoor Air Quality when Reopening K-12 Schools (2020 | Watch Webinar|Download Slides|Q&As)
Dreaming the Future: How Zero Net Energy Design can Transform the School Environment (2018 | Webinar)
With funding from the California Energy Commission, UC Davis and Berkeley Lab researchers visited 104 classrooms in 11 schools throughout California that had been retrofitted with new heating, ventilation and air conditioning (HVAC) units in the past three years. They evaluated the HVAC systems, carbon dioxide (CO
2
) concentrations, and indoor temperature and humidity through field inspections, monitoring, and a teacher survey.
Standards for ventilation rates balance indoor air quality and energy efficiency­­. ASHRAE, a global professional society that sets standards for building performance, specifies a minimum ventilation rate for classrooms of 15 cubic feet per minute per person. In California, the 2016 Building Energy Efficiency Standards, also known as Title 24, have the same ventilation requirement for classrooms. Using measured CO2 concentrations and the number of people in the classroom, researchers found only about 15% of classrooms met the ventilation standard.
Researchers characterized each HVAC system by documenting the number of problems due to its hardware, controls and filter maintenance. Classrooms with one or more HVAC problems tended to have lower ventilation rates and higher CO2 levels.
In addition to ventilation, thermal comfort impacts student performance. In this study, about 60% of the classrooms were warmer than the recommended average maximum temperature of 73°F. Also, 30% of the teachers surveyed were dissatisfied or very dissatisfied with the temperature in their classroom, and about 10% said the temperature interfered "a lot with the learning environment."