Western Cooling Challenge
Background of Commercial Cooling in the West
In hot and dry climates, cooling and ventilation can account for over 25% of electricity consumption in commercial buildings. Cooling also contributes to more than 50% of the peak electric demand, adding significantly to the reliance on costly, inefficient on-demand, peak-only power plants.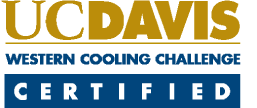 Overview of the Challenge
The Western Cooling Challenge is a multi-winner competition that helps advance the creation and commercialization of climate appropriate rooftop packaged air conditioners. As an objective third party research organization, we test packaged rooftop air-conditioning units (referred to as RTUs in the industry) in our labs or in one of our various other research partner laboratories. The WCEC also field tests all Cooling Challenge entries in actual, real world demonstrations. We certify only the RTUs that can meet our strict efficiency goals of at least 40% less energy and electric demand than the Department of Energy's 2010 Standards.
15% Market Penetration by 2015
Our goal with the Western Cooling Challenge isn't just to show the market which RTUs are efficient, we also act as advocates to help build awareness and commercialize these climate appropriate technologies.
Go to the Western Cooling Challenge Website
Western HVAC Performance Alliance
Transforming the HVAC Industry to Deliver Higher-Performing Buildings!
Because Saving Energy is Easier than Creating It
Meeting the West's long-term environmental goals will require more than the use of renewable energy sources. One of the most effective ways we can reduce energy use and green-house gas emissions today is to change the way we cool and heat buildings.
The technology to reduce energy used to cool and heat buildings by over 50% exists today and is ready for the market, but very few buildings actually utilize these new HVAC systems or retrofits.
These solutions are real, but there are still challenges that must be overcome. With so many technological choices, the HVAC industry needs to find a way to streamline their solutions and create and utilize a set of ground-rule standards for installation and maintenance. With the California Utilities and the CPUC, the Western Cooling Efficiency Center created The Western HVAC Performance Alliance to overcome these HVAC industry challenges.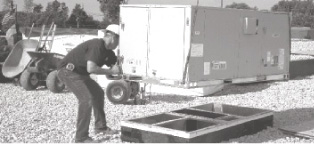 What is The Alliance?
The Western HVAC Performance Alliance ("the Alliance") is an advisory group of HVAC industry experts tasked with increasing the effectiveness and impact that ratepayer funded energy efficiency programs and other market transforming activities can achieve. The Alliance hopes to transform the HVAC industry so that it delivers advanced climate-appropriate technology while setting effective and sustainable standards for installation and maintenance so that more main-stream technologies will be more effective. The aim of the Alliance is to make these technologies and practices more accessible and marketable to homeowners and small commercial building owners.
The approach for the Alliance is to:
Maximize use of the latest technology and efficiency for cooling, heating and indoor air quality.
The use of gas and electricity through sustainable practices and programs.
Develop and implement best-practice standards for installation and maintenance to ensure peak efficiency, reliability and load reduction.
Help create a greater demand for energy-efficient HVAC products and services through incentive programs, outreach and market transformation.
SPEED: State Partnership for Energy Efficient Demonstrations
Overview
California has ambitious goals for lowering the energy use and carbon footprint of the state's built environment. A key to achieving these goals is the deployment and use of new and innovative energy efficient technologies and best practices — and the market potential is huge. Yet market transformation is contingent on these products overcoming barriers to commercial success.

From development, through demonstration, and into market adoption, SPEED's unique process generates feedback to continually refine market-based solutions, while influencing codes and standards, and the market for green jobs and investment.
The State Partnership for Energy Efficient Demonstrations (SPEED) program drives the market adoption of energy efficient technologies as a part of California's commitment to a clean energy future. Managed through the California Institute for Energy and Environment (CIEE), SPEED has been highly successful in conducting more than 100 demonstrations and other technology-transfer projects to showcase the benefits of best-in-class technology solutions in installations across the state. SPEED is a program of the Public Interest Energy Research (PIER) program of the California Energy Commission.
Taking a collaborative approach to market transformation, SPEED leverages partnerships with manufacturers, technology stakeholders and demonstration hosts. A unique process connects technology development, demonstration and market adoption through a feedback-generating pipeline that not only drives market adoption and energy savings, but also informs product improvement, influences state and national codes and standards and creates a positive market environment for investment and green jobs.
Go the State Partnership for Energy Efficient Demonstrations website